WHAT TO DO IF YOU ARE INVOLVED IN A CAR ACCIDENT
Imagine that it is a Saturday morning. You are driving to the grocery store and are stopped at a 4-way intersection. The light turns green, so you start driving. Then out of nowhere a truck slams into you causing a car accident! YIKES, what do you do?
In this blog post, we will answer that question from the insurance agent's perspective. Here are the dos and don'ts if you are in a car accident.
DO
If at all possible, do not move your vehicle.
Ask someone to contact the police or contact them yourself.
Remember the 3C's: remain CALM, COURTEOUS, CONSISTENT, in your version of the accident.
Fill out your accident report guide on the scene, not later on. Most agents will give you a report guide that will have the information you need to ask. If you are a Thams Agency client, you can find that information in the handout we provide you. If you need another guide, just email us at team@thamsagency.com.
Obtain the name of the witnesses, including addresses and phone numbers.
Notify the owner of the car you are driving as soon as possible.
Keep your insurance ID card in your glove box. An officer will ask for it when someone arrives on the scene.
Make sure to tell your insurance agent about the accident or remember to file a claim. (For Thams Agency clients, keep in mind that claims do not go in over the weekend. If your accident happened early in the morning on Saturday, you don't need to call your agent right then and there! Just make sure you call when we open on Monday.)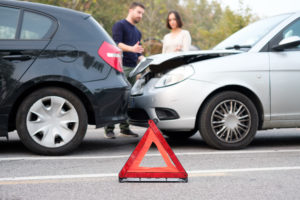 DO NOT 
"Make a deal" for damages.
Leave the scene, even if it is a minor accident.
Accept an offer of cash, check, or "private" settlement.
Disavow injury to you or your passengers.
Offer to pay anything on the scene, even if you think it is your fault.
Let someone talk you out of reporting the accident.
Administer first aid unless you are licensed to do so.
We hope this answers some of your questions! Our agency has worked with insurance since 1934, helping with auto insurance policies is one of the things we do best. If you have any other questions about auto insurance, one of our team members would love to talk to you. Please reach out to us at 712-263-3193 or email us at team@thamsagency.com.
*Please note that this blog post should not be considered as legal advice.