Our History
When Kenneth Thams founded Thams Agency in 1934 on the family farm near Schleswig, IA, he never imagined that he would be starting a legacy for the years to come.
Thams Agency started by first offering Crop Insurance to local farmers. It didn't take him long to realize it would be important for his clients if he was able to offer more services, so he quickly added auto and home insurance. In 1939 you could have bought full coverage on a car for just $16 a year!
After serving in WW2 Ken relocated to an office in Denison and continued to grow by offering investments and real estate services. In the late 1970′s Allen Thams joined the family business with his wife Judy Thams.
Today the family business continues to grow. Allen and Judy's son Todd, purchased the company in 2012 making this a third generation small business. After completing a total remodel in 2012, Thams Agency is ready for the future.  Thams Agency has a great team of insurance agents and companies to serve you.
In September 2013 Thams Agency acquired Western Iowa Insurance from Gary and Deanna Krummel and relocated to their office.
In July of 2015, Thams Agency opened a new office located in Audubon, IA.  Brandon Toft is an Audubon native who is the local agent.
Why do business with Thams Agency?
Unlike a captive, or direct insurance company who only offers their own proprietary products, our agency is 100% independent of any one company. Many insurance consumers don't fully understand just how important that really is.
When it comes to something as important as insurance, it's imperative that you work with an agency who has an in-depth knowledge of multiple insurance products, companies, and guidelines — not just one.
At the end of the day, what separates one agent from another, is their ability to proactively service their policy holders, and their knowledge of the insurance industry, products, and different situations that may present themselves to their clients.
Independent Agent Vs. The Rest
Here is a quick comparison of the differences between an independent agency like us, and the various other types of companies that are out there: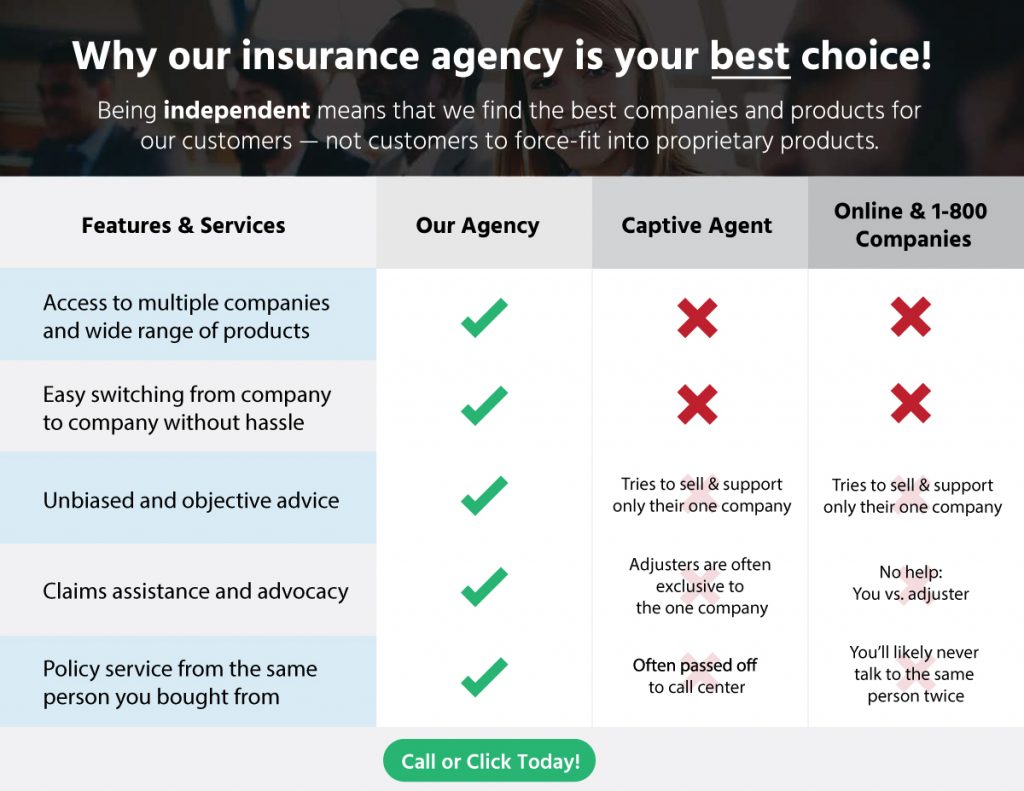 If you'd like to get started with a complimentary quote and/or policy review, we'd be happy to help you any way we can. Simply complete the fields below to get started online in a matter of seconds.
We appreciate the opportunity to help you, and look forward to servicing your insurance needs! Feel free to call us directly if you have more detailed questions.