How to Protect Your Home – Holiday Tips
December is a favorite month for many people. This month is filled with shopping for friends and family, having family members over for Christmas, and so much more. This time of year becomes a little busier than normal with all of the holiday festivities and people around the house. There are so many positives! Unfortunately, this time of year also brings about some terrible home insurance claims.  
What 
coverage 
is included in your home insurance policy?
Dwelling  — this is the portion of your policy that covers the actual structure (main house). This part of your policy provides coverage from perils such as fire, hail, the weight of snow, or ice. 
Other Structures — this covers any structure on your property that is not permanently attached to your house, like fencing, driveways, sidewalks, and detached buildings like sheds and garages. 
Personal Property — this covers all your personal belongings like clothing, furniture, electronics, and appliances. Basically, anything that would fall out of your house if you turned it upside down and shook out the contents.  This part of your policy provides coverage from common perils such as theft as well as fires.  
Loss of Use — this covers your living expenses if you need to live somewhere else temporarily because your primary home is uninhabitable due to a loss. 
Medical Expense —this covers medical expenses for guests if they are injured on your property, and in certain cases covers people who are injured off of your property. It does not cover health care costs for you or other members of your household. 
Family/Personal Liability — Personal Liability Coverage applies if someone is injured on your property or their property is damaged and you are to blame. This liability also provides coverage for host liquor liability if one of your guests has too much fun.  Your personal liability coverage should be high enough to protect your assets if you are sued. In some situations, an Umbrella policy may be necessary to provide extra coverage.  Intoxication is always a concern during the holiday season and almost all homeowner's policies offer the homeowner protection if from liquor liability claims.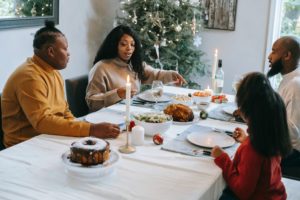 C
ommon 
Holiday Home 
R
elated 
C
laims 
Theft
People receive deliveries at home and may take pictures and post them on social media. Social media is great but it can help thieves know who to target to steal the best products. Please be careful what you post online and if you can have a security or video system, this is a great deterrent to thieves.  
It's important to note that if you have purchased high-end jewelry or fine collectibles, it's best to schedule this from the day that you purchased that item as there may be coverage limitations in your policy that would not cover the entire loss. An example of this would be if you purchased a $5,000 necklace but your home policy only provides coverage for $1,500 in jewelry. It's always best to ask your insurance agent if you are concerned about having the right coverage.  Do not assume specialty items such as high-end jewelry is covered at 100% automatically. 
Slip and Fall Injuries
The holiday season sees an unusually high number of slip and fall injuries mainly due to winter weather. As conditions turn icy, injuries become more common as people wear dress shoes to holiday events that have zero traction on ice.  You may also have elderly people at your home who are not familiar with your surroundings or perhaps your home isn't handicap accessible. 
Trip hazards are everywhere with presents, toys, small children running around or in some cases, alcohol may play a factor also.  These types of claims in my opinion are the worst.  A severe shoulder injury can last for months, require serious surgery and prevent someone from returning to work which can cause serious financial hardships.  Please look for ways to prepare your home and prevent injuries.  
Fires
 According to FEMA, most fires are caused by people ages 50 and above while cooking, not by Christmas Trees!  Who would have thought?  While cooking may be the number one cause of fires during the year, electrical fires are more common during the holiday season as people decorate trees and the exterior of their homes.  It's best to check your Christmas lights extension cords to prevent fires.  Place candles on surfaces that are non-flammable and never leave a candle burning if you are not at home. 
Friendly 
Holiday Home Safety 
Tips 
The holidays are busy and can challenge the best of us with all there is to do.  Here are a few tips from Thams Agency on how to protect your home and family in order to help you have a safe and claim-free holiday season. 
COVID-19 
Just like last year, COVID-19 will have an impact on this year's holiday season. If you are wondering where to find information on safety and updates, here is a link from the CDC. It will tell you about prevention, cases in different areas, and travel tips.
Christmas Lighting Tips
Replace any broken or damaged bulbs

 
When installing lights, wooden or fiberglass ladders are best to avoid potential electrical shocks.

 

Use the correct light indoors and outdoors.  

 

Look for lights approved by UL, Universal Laboratories.

 

Use the right extension cords.  Use outdoor cords for outdoor lights and check to make sure they are appropriate for wet or cold areas.

 

Beware trip hazards.  Try and secure cords appropriately as well as protecting electrical connections from the weather.

 
Never decorate dead trees or shrubs with lights.  

 
Cooking
Use proper electrical cords when connecting fryers or roasters.  Be careful to not overload circuits or create trip hazards with cords laying on the floor.  

 

If you're going to use a deep fat fryer, make sure to do so outside away from your home or landscaping by at least six feet. Be extra careful when cooking frozen items to limit splashback and potential oil burns.

 
Watch for open flames such as a stove where flammable items can get too close and create a fire. 

 

Watch for those members of your party 

who have

 had a little too much fun and may be intoxicated. 

It is

 always best to arrange transportation for them to make sure they get home safely. 

 

Don't cook items overnight or while you're sleeping. Make sure that if something is cooking in the kitchen, that 

you are

 close by. 

 

Don't overload circuits if you are doing a potluck.

 
Exterior Tips
Prepare your home and business for the wintry weather ahead and place buckets of sand or salt outside for all to use. 

 

Safely secure any loose cords for Christmas lights that may be running across sidewalks or driveways.

 

Replace

 

all lighting where bulbs may be out on the exterior of your home or building so people can come and go safely. 

 

If you have a fireplace

, 

check to make sure 

the chimney is

 free from debris before starting your first fire. 

 
Have shovels and ice removal tools on hand.
Pets 
Remind your guests that human food is not pet food, ask them to not feed your pet scraps.

 

Don't let your pet unattended around the Christmas tree in case 

there are broken ornaments or they 

believe

a decoration is their new chew toy.

 
Talk to your vet about your individual 

pet's

 needs. We also found an article from the AVMA to read on 

holiday pet safety

.

 
Final Thoughts
The reality is most homeowners don't need to purchase additional insurance or make changes to their existing coverage. If your policy was written correctly when you purchased it you should be properly covered. If you're concerned, it's always best to reach out to your agent. The best thing that you can do is a little prep work to make sure that everybody who arrives at your house, or business, leaves in the same way that they arrived.  
In my experience, slip and falls tend to be the worst claims as they affect the individual health of the person. A Christmas can quickly be ruined if a beloved family member is hospitalized due to a preventable slip and fall claim.  
We encourage you to spend a few minutes preparing for the holiday season to make sure it's a safe and enjoyable season for all who attend.  The best holiday season is where everyone arrives at their home the same way they arrived at your home. If you have any questions at all, we would love to work with you! Please email us at team@thamsagency.com. Happy Holidays!!!