Group Benefits Renewal Walk Through
My name is Jamie Bramman and I am a Benefits Advisor at Thams Agency.   I work with groups of all sizes and help our clients have a positive renewal experience.  I hope this blog post is helpful for you and answers some of your group benefits renewal questions.
A large majority of businesses renew their group benefits on January 1.  As your business prepares for benefits negotiation and renewal, there are a few common questions that we receive from almost all clients.  We want to help make sure your business is on the right track and have created this post to answer these common questions.  We hope this will help make the renewal process for your business a smooth process.
1) When will our group receive our benefits renewal(s)? 
Typically, we receive the renewals approximately 90 days prior to the renewal date.  So if your plan renews January 1, we'll get these around October 1.  In an effort to get the information into your hands as quickly as possible, we email a copy of the renewal along with a brief summary outlining the plan changes and premium impact.  The group can also expect a hardcopy in the mail directly from the insurance company usually around a week or so after.
2) Do you know if we are going to get an increase and/or a plan change? 
It's extremely difficult to predict a rate impact on a specific group.  Past experience tells us that deductibles will probably increase and so will premiums.  While we may know what the minimum rate increase may be, group size, age of the group, and claims can play significant roles in a group's renewal offer.  For example, the older the group, usually there are more claims, and along with that comes a higher increase.
Your business should be prepared for a plan change of higher deductibles and a premium increase.
In an effort to help businesses, we ask each carrier of what to expect for the upcoming renewal year and share this with businesses as it becomes available to us.
3) What are my options if I am not happy with my renewal offer? 
It is not uncommon for businesses to be upset with a renewal increase.  The reality is that plans have had an increase in deductibles for a number of years and premiums continue to increase as the cost of healthcare continues to rise.  A common reaction is to shop around only to find out that the plan they are with is already the best fit for their group.  By discussing your concerns with us we can help you achieve a positive outcome.
Common Options that businesses can do include:
Looking at alternate plan designs with the same company
looking at options from different carriers
adding in products that help to lower not only the premium for the employer but the out of pocket costs for employees
At Thams Agency we are unrelenting and will work hard to get you the best plan for your company.
4) What will renewal meetings look like?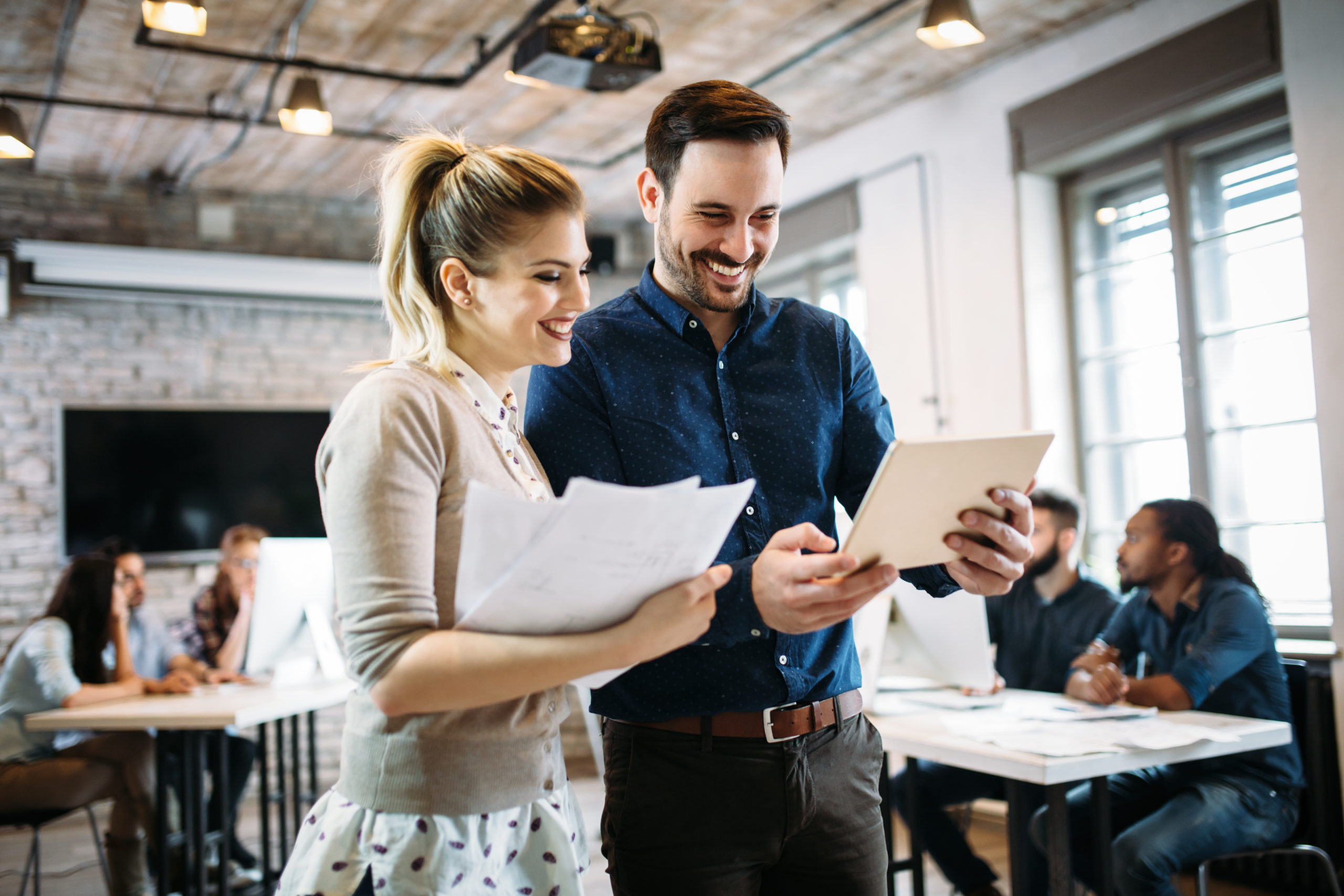 In 2022 with Covid-19, the way group benefits meetings are handled will certainly be different than in the past. In an effort to accommodate the number of clients we work with we have several options to help communicate your companies benefit plan virtually.  Zoom, YouTube, and online enrollment portals are a few of the tools we can use. If you are comfortable with in-person meetings, we can do that as well! We will work together to find a solution that works for your company and is the safest for you and your employees.
Clients in the past have expressed in meetings that they may struggle to educate employees on enrollment. No problem, we can help! Thams Agency can provide a video or videos specific to your group with your policy changes, expectations, deadlines, etc.
5) How long does enrollment last? 
Most carriers will want ALL renewal documents/changes/applications by December 15th.  This is so if there are any changes/adds/terminations they are processed prior to January 1st.
If your company waits until this deadline, it may affect the arrival of cards and proof of coverage.  We always recommend trying to be early so there are no problems.
6)When do the changes I make go into effect? 
All changes will go into effect on January 1st.  If your business is staying with the same carrier, new ID cards may not be issued.  If your business is moving to a new carrier or an enrollee is moving to a different plan or adding other benefits, new ID cards will be issued and mailed to the home address of the enrollee.  It's important that employees lookout for their new cards in the mail as they typically arrive in an unmarked envelope.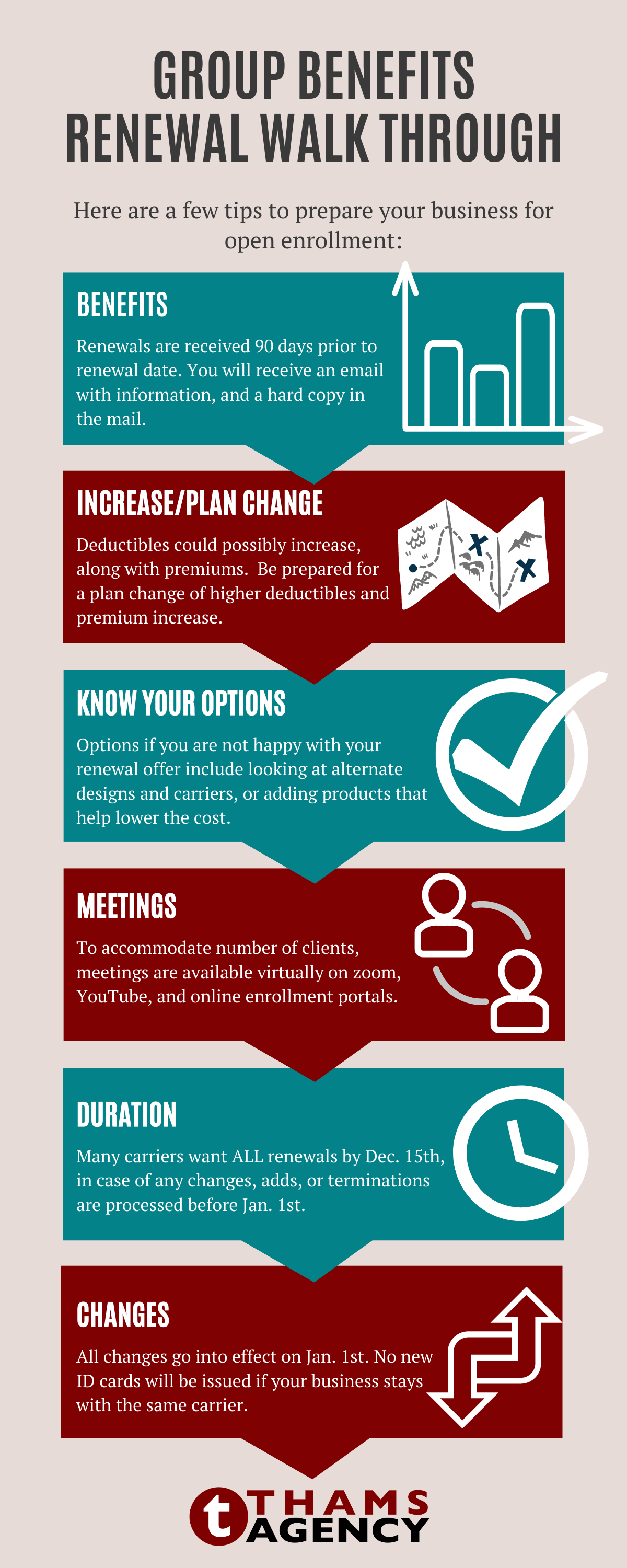 We want to help! 
Renewal season can be a hectic one for everyone involved. You don't need to stress when you partner with Thams Agency! At Thams Agency, we have the tools, knowledge, and best service to help you through renewal & enrollment.
If you have more questions or concerns please reach out!  You can reach me via email at jbramman@thamsagency or phone (712)343-6332.