What Happens If I Miss Open Enrollment?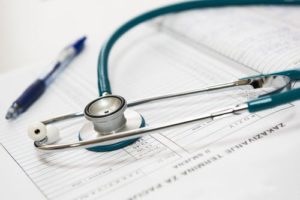 An open enrollment period is a short period of time (usually one month or less) when you can enroll in or make changes to your employee benefits elections. Possible changes include adding or dropping coverage, adding or removing dependents, or enrolling in benefits for the first time. Most employers tend to hold open enrollment approximately 30-60 days before their plan renews which is Jan 1.
Open enrollment is your opportunity to take advantage of important benefits, such as health, vision, dental and life insurance, a health savings account (HSA), and a retirement plan.
If you miss your employer's open enrollment deadline, you could lose coverage for you and your loved ones, and you could be subject to a fine imposed by the Affordable Care Act (ACA). Missing this deadline also means that you could be unable to make changes or enroll in benefits until the next open enrollment period.
One exception to this rule is if you experience a life-changing qualifying event that would trigger a special enrollment period (SEP). Events such as getting married or divorced, having or adopting children, or losing eligibility for other health coverage can trigger special enrollment rights. In some cases, you can also qualify for special enrollment if you become eligible for a premium assistance subsidy under Medicaid or a state Children's Health Insurance Program (CHIP).
If you think you might qualify for a SEP, contact your HR manager. If you have not recently experienced a life event, but have missed the open enrollment deadline, you should also contact your HR manager to find out whether you have any other options.
Other Options for Health Coverage
If you miss your employer's open enrollment deadline, there are a number of ways in which you can try to obtain health insurance; however, the availability of some options will depend on their enrollment deadlines.
If your spouse receives benefits from his or her employer and the open enrollment period is still open (or coming up), you may be able to enroll in coverage through your spouse's plan.
Young Adult Benefits Under a Parent's Plan:
If you are younger than 26 years old, you may be able to be added as a dependent on your parent's plan. If your parent's plan offers dependent coverage, this option should be available to all children under 26, regardless of whether or not you are employed, married, have children or are a student. However, this option is likely available only if your parent's work-based plan offers coverage for family members and if the open enrollment period for that plan has not yet closed.
State Insurance Marketplace
Depending on the timing, you can consider buying health insurance from the Health Insurance Exchange Marketplace. Marketplace coverage is only available for purchase during an annual open enrollment period, which starts this year on November 1, unless you qualify for a SEP. (See the SEP section of www.healthcare.gov to check). Similar to employer-based plans, a SEP can be triggered if you experience a qualifying life event.
If the health insurance your job offered was affordable and covered the majority of your health care costs, you will not be eligible for a health insurance subsidy to help you pay your monthly premiums for a Marketplace plan. However, you may have more health plan options to choose from, including some lower-priced plans that would provide coverage for you until the your employer's next open enrollment period. For more information, or to enroll in a Marketplace plan, please visit www.healthcare.gov.
Medicaid provides health coverage to low-income adults. Medicaid does not have open enrollment periods, which means that you may apply at any time. Eligibility for Medicaid varies from state to state, so be sure to check www.medicaid.gov or your state's Department of Health website to see if you qualify for this option.
Short-term Health Insurance
If you are concerned about not having health insurance and are not eligible for any of the other options, you can consider purchasing a short-term health insurance policy from a private insurance company. These are temporary plans for those who are awaiting longer-term, major health coverage. They generally do not cover pre-existing conditions, are not guaranteed-issue (meaning that you are not guaranteed coverage) and are subject to state and insurance company limits on how many times this type of insurance can be renewed. Most importantly, short-term insurance is not considered "minimum essential coverage" under the ACA, which means that even if you are able to enroll and maintain coverage until the next open enrollment period at your workplace, you may be subject to paying the individual mandate penalty (see below) with your federal tax return.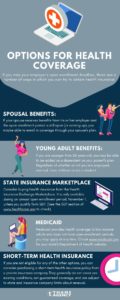 What Happens If I Don't Take Any Action?
Starting with the 2019 plan year (for which you'll file taxes in April 2020), the Shared Responsibility Payment no longer applies at the federal level. Prior to this, you would pay a fee called the individual shared responsibility payment when you filed your federal taxes if you did not purchase health insurance. This was commonly referred to as the individual mandate. 
 Even though the individual mandate has been removed at the federal level, there are still 5 states which enforce the mandate at the state level as well as the District of Columbia.  
They are: 
Massachusetts

 

New Jersey 

 

Vermont 

 

California 

 
Rhode Island 

 

District of Columbia (Washington D.C.)

 
 For these states, you'll need to check with your tax preparer on fees for not having health coverage.  
Be Prepared
Missing your employer's open enrollment deadline can be costly. Be proactive—mark deadlines on your calendar and create reminders in your phone so that you do not miss your employer's open enrollment period. If you do happen to miss the deadline, be sure to talk to your HR manager right away.
If you have any questions, we would love to help. Thams Agency is an independent insurance agency with multiple locations throughout Iowa. Our mission is to help educate on all things insurance & help people find insurance that is tailored to them. Please email us at TEAM@THAMSAGENCY.COM with any questions you have.