Tie One On For Safety This Holiday Season: Don't Drink and Drive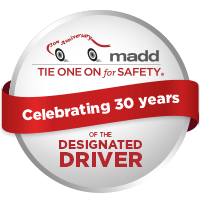 A quick look at the website for the Tie One On For Safety campaign by Mothers Against Drunk Driving (MADD) reveals some pretty sobering statistics. (Source: http://www.madd.org/drunk-driving/about/drunk-driving-statistics.html)
50 TO 75 PERCENT OF CONVICTED DRUNK DRIVERS CONTINUE TO DRIVE ON A SUSPENDED LICENSE.
EVERY TWO MINUTES, A PERSON IS INJURED IN A DRUNK DRIVING CRASH.
IN 2013, 28.7 MILLION PEOPLE ADMITTED TO DRIVING UNDER THE INFLUENCE OF ALCOHOL – THAT'S MORE THAN THE POPULATION OF TEXAS.
AN AVERAGE DRUNK DRIVER HAS DRIVEN DRUNK OVER 80 TIMES BEFORE FIRST ARREST.
IN 2015, 10,265 PEOPLE DIED IN DRUNK DRIVING CRASHES – ONE EVERY 51 MINUTES – AND 290,000 WERE INJURED IN DRUNK DRIVING CRASHES.
Startling statistics. Even if you haven't been directly affected by drunk driving, this information should give you reason to pause and reflect on your holiday party plans. This holiday season, MADD celebrates its 30th Tie One On For Safety campaign, designed to raise awareness about drunk driving. When you're enjoying time this season with family and friends, remember to drink responsibly. If you drive, don't drink. If you drink, don't drive.
Designate a Driver
The safest choice when driving is not to drink at all. If you plan to drink, have a designated driver who agrees to not drink and is responsible for driving you and others home.
How Much is Too Much
If you choose to drink responsibly, how do you know if you are overdoing it? Use the simple one-to-one rule: have one standard drink per hour. A standard drink is defined as one of the following:
One 12-ounce beer
One 5-ounce glass of wine
One mixed drink with 1.5 ounces of liquor
Remember, personal tolerances vary, so it is up to you to know your safe limit and stick to it.
Be a Good Host
If hosting a party, you do not need to serve alcohol to make your party merry. From sparkling punches to mulled cider, there are many festive, non-alcoholic beverages to offer your guests. If serving alcohol, always measure the amount of alcohol mixed into drinks and punches so guests can gauge how much they are consuming. Before the party, or as guests arrive, confirm that they have made plans for getting home safely. In addition, stop serving alcohol at least one hour before the party ends.
Try playing party games that engage people, which typically results in lower alcohol consumption.
If someone overindulges, it is your responsibility as the host to keep them from driving. Arrange for a ride with a safe driver, or offer them a place to stay. In addition, remember that black coffee, a cold shower or fresh air may make a person feel more awake, but it will not help him or her overcome the effects of alcohol. Time is the only way to sober up.
Don't Mix
Prescription drugs or over-the-counter remedies, such as cold medications, when combined with drinking may affect your driving. Follow the directions and warning labels of all medications carefully.
Learn More
To learn more about MADD's Tie One On For Safety campaign, visit their website: http://www.madd.org/drunk-driving/how-you-can-help/tie-one-on-for-safety.html.