With warm weather comes more outdoor activities! Your kids especially want to spend more time outside. It's time to dig the barbie or hot-wheel jeep out of your garage. Your kids start driving up the sidewalk to the neighbor's and BOOM, they crash into the mailbox. YIKES, does your homeowner or auto insurance cover the damages? Keep reading to find out if kid's jeeps are covered.
In the above situation, the answer is no. By definition, neither the home nor auto policy gives any coverage. The homeowner policy will give coverage on the premises, but once your child heads up the sidewalk to see their friends, liability coverage ceases.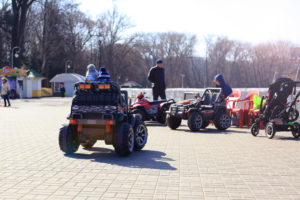 The same applies to electric scooters. When you go to the city and rent them, you are also liable for any accidents. Should you hit a pedestrian and cause an injury – no coverage.
Jeeps for kids are a lot of fun for the kiddos, just keep in mind that if they drive outside of the insured area that you will be liable. Something so fun and innocent can take a turn for the worst.
As your local agent, we thought this was a hot topic that people should be aware of. If you have any questions, please reach out to us at team@thamsagency.com. We hope you and your kids enjoy the nice weather!